Last updated March 4, 2017
Staffed Saturday March 4
11am to 3pm
Bundles, Starter Plants, Eggs, & Preserves

Willows & Woody Florals
Bundles, Cuttings & Starter Plants
Staffed some Saturdays - See schedule to the right.
Also available by appointment.
Now is the time to transplant!
See our Newsletter for
our Winter News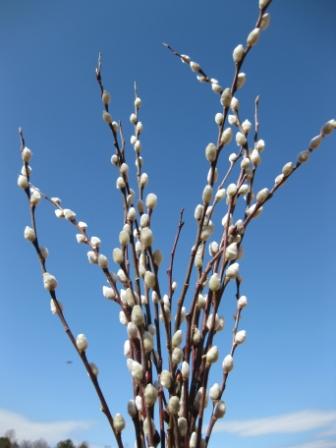 Tis the Season for decorative branches and stems!
The Willow Harvest is ON! We have bundles, cuttings and potted starter plants available. We will be staffed some Saturdays (see schedule to the right) and are always available by appointment. Call Walker 864-350-9345.
Red and yellow stick dogwood will be in short supply this year, not sold out but close. We will have plenty of red curly and of course, the "darling" of them all, the woolly & silver willows will be in good supply too. In addition, we are rooting two varieties of weeping willow since we have had many requests... but give us time to get them going.
Recently a friend shared a blog we found very interesting http://deborahsilver.com/blog/cut-branches-for-winter-pots. It is worth the visit for winter decorative ideas.

Eggs, Jams & NEW THIS YEAR
Frozen Blue- and Blackberries
We still have eggs and jams for sale on the porch. We have added this year frozen blueberries and blackberries in a small freezer on the porch. If you like this we could expand the volume for the winter of 2017. The prices are on the bags in the freezer. Purchases are on the honor system if we are not there.